loz : laurie

I am many things; mostly appropriate, I believe. some of you know parts of me... some of you know much of me. very few of you know all of me.

you may find the many parts of me somewhere around here, if you want to take the time to look. good luck, hahaha.

oh... but let me know if you find my pieces, please... I always seem to be searching for myself ;).
my own webhosting choice... always!
my camarades cam indicator:
(click it if it shows 'cam online')




tag board: patience please, new comments are often a bit slow to appear.
Sex:

empower yourself!

the population keeps rising
the nipple poll
note: past votes are recorded; you don't need to vote again if you already have. thanks for voting!
click to see all poll results
past poll results:
type Y for yes, N for no
1. are your nipples sexually sensitive?
2. have you ever had an orgasm from nipple stimulation only?
3. are you M or F?
results:
female:
#1:
71
#2:
30
response: no to #1 -
6
male:
#1:
35
#2:
13
response: no to #1 -
17
gender-confused (4):
#1:
maybe...
#2:
uhhhh...
completely confused:
19
most original comment:
I am N. Ninja. I transcend such trivialities as gender.
artists featured here
(brilliant indies)
mostly appropriate blinkylinkthing:





right-click on blinky & 'save target'

so... who links back to me?
lozlinks

lozza links, related to my own biz as well as some great blog reads. check 'em out!


click to see all links
what colour energy are you?


Your Energy is Purple. You are a visionary with unmatched intuition and spiritual consciousness. The mystical world and unexplainable forces fascinate you. There resides in you a true dignity and nobility, and others see you as a worthy leader and loyal friend. You are often very mature, with a deep understanding of human nature, and you will instinctively encourage and guide others toward their full potential.

You find it natural to express yourself aesthetically and artistically, you may be involved in the artistic professions, a religious organization, or in activities that have a degree of ceremony and ritual. You would make a good therapist, healer, psychic, or entrepreneur.

What color is your energy?
brought to you by Quizilla

My blog is worth $11,290.80.
How much is your blog worth?
Ramjam Radio
reggae, soul, RnB and other quality black music of all genres.

Friday, May 21, 2004
Kearon de Clouet - featured music, May 21, 2004
before I get into the next artist I'm going to feature I must give
Daniel Iorio
big love for allowing me to link to his latest song here. I'll be featuring Daniel again at some point, because he's just got too much talent (and music!) *not* to do so. suffice it to say that I just love his stuff - and his yummy voice! -
that
much that I want to do whatever I can to help people find out about it. that's basically the whole point of these 'featured artist' things here on my blog, really - to help promote artists who I believe deserve my support because they're talented musicians and also good people. to see my original entry about Daniel and his music,
click right here
. I'll add links to these featured artists in my links section.
---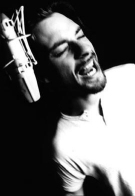 Kearon de Clouet - or KdC as he's often called - is an Australian artist who's another one of my favourite musicians; I originally met him and learned of his music via the
Lewis Taylor fan site
. recently Kearon returned to live gigging for the first time in years, and did it so well that I knew I had to get his music on here as soon as possible. he's been so busy helping other people get their music produced/recorded - his day job - that his own music has taken a bit of a back seat. that's changed now with the impending release of his new album,
Urban Survivalist
, which to begin with will be available for purchase via his
makinnoize.com website
. anyone out there with music industry connections, get this man proper distribution for his music, please!
fans of soul-type-groove music will almost certainly find themselves wanting to add KdC's album to their collection. by the way, since I'm fairly clueless about music genres, you'll almost always find that the music I feature will be so much more than just the simple 'label' I give it. I'm a real fan of multi-textured, layered and complex,
interesting
sounds - and Kearon's music doesn't disappoint one iota in that respect. or in any respect, for that matter. this man is one of the most talented artists I know, with a production skill unequaled by most independent artists, as well as a personal humour that roams all over the place. he's fun, he's funny, a really decent person - though watch out for the aforementioned humour - and as you can see from his pictures, he really is (quoting myself) quite ridiculously easy to look at.
afternote: can't believe I forgot to mention at first how much I love K's voice & lyrical expression too!


I can't really sing KdC's praises enough, I'm that impressed, so I'm just going to shut up now & give you the links to hear his stuff. below will be links to mp3 files as well as video from his recent live appearance - an acoustic gig,
up close and personal
, at the
Zenith Theatre, in Australia
, on April 24/04. if your internet connection can handle it, definitely download the videos to watch... I would never have guessed by watching these that Kearon hasn't gigged in so long, he seems such a natural at it.
oh, one more mention: Kearon was asked back to play at the Zenith again this weekend (the organizers had gotten so many calls asking when he'd be back!), but unfortunately his voice has been altered to a 'wimpy alien' - his words - sound by laryngitis and he can't make the gig after all. however, Kearon put together an Enhanced CD to sell at the gig this weekend and this is still available via email from his site also (
go to the contact page
). the CD includes 6 tracks from Kearon's upcoming album, the entire video of his first
up close and personal
gig at the Zenith Theatre, as well as a special extra video that - as K says & I concur because I've seen it - 'no one would expect', from about 3 years ago.



mp3s - click to stream, or right-click & 'save target as' to download


I Always Forget

Your Next Love

I Got To Roll

I Always Forget - Live & Solo




videos - right click & 'save target as' to download... unzip & play!


Windows Media

Quick Time

I Always Forget (3:08)

I'm Yours (3:15)

Your Next Love (2:27)
babbled by
loz
- 11:52 pm
Corbin


September 22, 2010 04:56 AM PDT



Are you willing to get buy resume, which conform the range of research you wish?. You can trust our resume writers, as you count on yourself. Thanks because it is the useful knowledge
loz


May 29, 2004 04:11 AM PDT



K (if you see this), I'll be taking your stuff down over the next couple of days to put up the next music... but will definitely want to put something(s) of yours up again. in particular I'm thinking of some of the things I first heard of yours... 'sensuality' etc. must be done! and I thank you lots for letting me have your stuff up here, you talented man!

much love,
L.
xx
- - - - - - - - - - - - - - - - - - - - - - - - - - - - - - - - - - - - - - - - - - -




- - - - - - - - - - - - - - - - - - - - - - - - - - - - - - - - - - - - - - - - - - -