does anyone remember that song which name I cannot recall, with lyrics like this: 'soldier boy, oh my little soldier boy... I'll be true to you'. an old thing. shush - it's older than me, I just happen to remember it. well anyway, that's what came to mind when I typed the title of this entry. 'sk8rboi, oh my little sk8rboi... I'll be mum to youuuuu.' oooo, I feel like Avril Lavigne all of a sudden! (not)
anyhoo, here for your enjoyment - or primarily my own if I'm honest about it - are some pictures of my sk8rboi(s) from the competition on Sunday last. unfortunately, I didn't have time tonight to save - off the cam - any pictures of Duncan actually skating before I came to Gran's for the night, but I'll do so another time. I did get one picture that shows Dunc & his friend watching the action, at least. awww, his friend is a girl. well he's a real chick magnet, you know?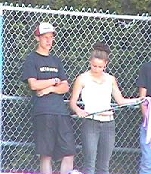 and here are three pictures of Brennan doing his skate thing. he landed - and beautifully, I might add - two out of three of these tricks... can you guess which ones?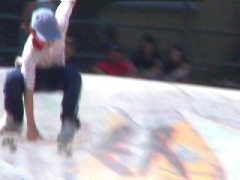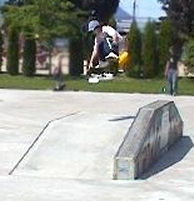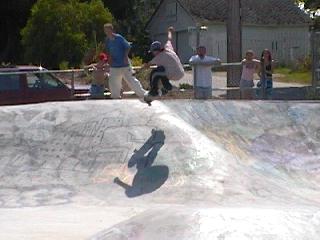 over to today. it's been a rather odd day. I could sit here & bitch about it, actually, as there were enough things that annoyed me. the dad came over for supper & a visit & to do stuff with the boys (nuff said). actually no, that's not really fair - mostly it was fine, but he did annoy me in certain ways. 'nuff said now.
the heat was another annoyance. oh don't get me wrong - I'll always prefer heat over cold, but just don't get in my face when I'm visibly sweating, willya? and can someone pleaaaaaase remember not to leave
all
the doors open? the unspayed cat gets out, and I do not want her getting preggers; she's too small, too young, and I'm not into dealing with a litter of kittens either. it's only a matter of a short time now until I can get her into the vet for the operation. besides, the screen door keeps bugs OUT as well, if it's closed. hello? just follow my lead - leave my doors open or closed as I've pre-arranged them, if you're going to be going in & out of my house. ie, main doors open, screens closed. is that so fucking much to expect, really?
lots of yard work got done by the boys tonight, so that's a good thing. I did a bit of weeding in the flower bed myself, but had to quit fairly soon as my back couldn't take the leaning over. I'll have to get knee pads or something so I can kneel rather than stand there. after that I finally got into the shower to cool off & clean off, but wouldn't you know: the bloody bath mat slipped out from under me & I went crashing down in the tub. landed on my right side - hip, then ribs & underarm connecting with the edge of the tub instead of my head, after some quick corrective action. well okay, so it was just me flailing about on the way down that made the difference, but whatever. I felt the wrench to my back & neck, in any case, and I'm feeling the stiffness now; quite sure a lovely bruise will be blossoming on my hip anytime now. at least it's a change from injuring parts on my
left
side, as I most often do.
*sigh* I'm just
tired
(even though I actually spent much of the afternoon snoozing), and wishing I had a little relief in the form of soothing touch. but I think I'm done complaining now. on to more pleasant occupations: posting the next music :).