loz : laurie

I am many things; mostly appropriate, I believe. some of you know parts of me... some of you know much of me. very few of you know all of me.

you may find the many parts of me somewhere around here, if you want to take the time to look. good luck, hahaha.

oh... but let me know if you find my pieces, please... I always seem to be searching for myself ;).
my own webhosting choice... always!
my camarades cam indicator:
(click it if it shows 'cam online')




tag board: patience please, new comments are often a bit slow to appear.
Sex:

empower yourself!

the population keeps rising
the nipple poll
note: past votes are recorded; you don't need to vote again if you already have. thanks for voting!
click to see all poll results
past poll results:
type Y for yes, N for no
1. are your nipples sexually sensitive?
2. have you ever had an orgasm from nipple stimulation only?
3. are you M or F?
results:
female:
#1:
71
#2:
30
response: no to #1 -
6
male:
#1:
35
#2:
13
response: no to #1 -
17
gender-confused (4):
#1:
maybe...
#2:
uhhhh...
completely confused:
19
most original comment:
I am N. Ninja. I transcend such trivialities as gender.
artists featured here
(brilliant indies)
mostly appropriate blinkylinkthing:





right-click on blinky & 'save target'

so... who links back to me?
lozlinks

lozza links, related to my own biz as well as some great blog reads. check 'em out!


click to see all links
what colour energy are you?


Your Energy is Purple. You are a visionary with unmatched intuition and spiritual consciousness. The mystical world and unexplainable forces fascinate you. There resides in you a true dignity and nobility, and others see you as a worthy leader and loyal friend. You are often very mature, with a deep understanding of human nature, and you will instinctively encourage and guide others toward their full potential.

You find it natural to express yourself aesthetically and artistically, you may be involved in the artistic professions, a religious organization, or in activities that have a degree of ceremony and ritual. You would make a good therapist, healer, psychic, or entrepreneur.

What color is your energy?
brought to you by Quizilla

My blog is worth $11,290.80.
How much is your blog worth?
Ramjam Radio
reggae, soul, RnB and other quality black music of all genres.

Thursday, June 24, 2004
the music of Peter Dahl-Collins, here now
okay, I know I'm obsessed. forgive me, but I just have to do this because I am loving CrashTV so much and missing the music-makers themselves - after visiting them in their element in early May - as well. bit of a twist on this one though... I want to feature my friend Peter Dahl-Collins here, as mentioned in the blog-title, rather than just his band CrashTV (since I've gone on about them before & will do again in future).
before I get started, I want to send out huge love to my dear friend
Michael Parker
for so kindly allowing me to present here a bunch of his music. I love to share M's stuff because it's just so special in so many ways, and he's one of the most creative, talented artists I personally know. I hope you all were able to enjoy Michael's music while it was featured, but if not you can always go to
the original entry
& check out the tunes from there. I wish I was at liberty to talk about Michael's current (huge) project because it's something very special; I can't so I shan't, but do expect to hear more about this talented artist in the fairly near future! (besides, I just lurrrve to talk about Michael, hehe).
-----------------------------------------------------
and so...
Peter Dahl-Collins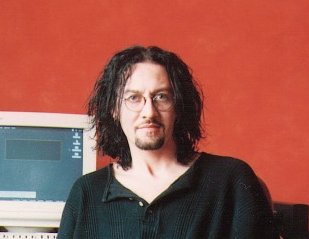 Peter is another dear friend of mine, and is - not coincidentally - the man who so kindly opened his home and his spare futon to me while I was visiting London in April/May.

I first met Peter online in 1999 when I came across a personal website he had online at the time, which led me to his design site; he's an extremely talented web designer, working with Flash - but more about this after the music bit. I actually saw the design portfolio before I heard the music - CrashTV - but it wasn't long before I got familiar with the music, too. after that it wasn't too long before Peter started sending me bits of music as CrashTV made it, and then he sent me a couple of older albums, and eventually we ended up collaborating on the ink1 music project. Peter has also in the past worked with the band Dreamfield, formed by talented lady musician Poppy Gonzalez (hah, P, I spelled it right this time!). you can check out Dreamfield music - including some produced &/or remixed by Peter - at this Dreamfield music page. ink1 is also very fortunate and very pleased to have Poppy as a contributor of vocals, and I am very pleased and very fortunate to have had the pleasure of meeting & spending time with Poppy during my trip to England.

below are links to the most recent track from CrashTV and to an ink1 track that is (otherwise) only available if you purchase our first album. it won't be up here forever, so I suggest you listen now if you want to listen at all ;). all the CrashTV and ink1 music is produced by Peter, and he also does all the drums and bass for both groups - and in fact does all the ink1 music period, other than Michael Parker's important guitars that are part of ink1 sounds.



CrashTV

farming

listen lo-fi
listen hi-fi

roundagain

listen lo-fi
listen hi-fi


ink1

car
4.94 mb - 128 kbps mp3
music by Peter Dahl-Collins, vocals by yours truly

downhill (below the burrow)

listen lo-fi
listen hi-fi

* links removed now... hear some ink1 at our music page instead *

music by Peter Dahl-Collins, guitars by Michael Parker, vocals by Father Time

don't forget to check out the CrashTV music page, and come visit us at ink1 interactive here on blogdrive.com. here again is the link to the Dreamfield music page, where you can hear their music including a track produced by Peter and the anime remix of Christopher's Dream by Peter.

pictures of CrashTV, from their band night that I was at: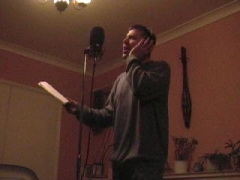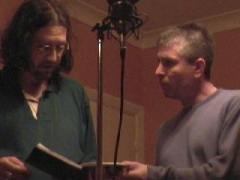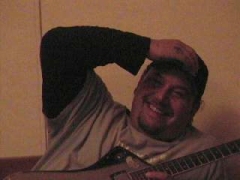 as for Peter's design talents... well I just have to say, Peter is my Flash god. really! I wish I had 1/4 the talent this man has in his little finger. you can check out some of his designs if you click to
visit Design Resurrection
. when you get there, click 'websites' on the left, then click the 'portfolio' button on the page.
I think one of the most important things that makes Peter's creative ventures so captivating is his ability to think outside - and over a bit - of the box. he's taught me a lot - purely by osmosis, as he never tries - about how to look at things from new perspectives, and has helped open my mind to many new (and previously dismissed, in some cases) concepts. besides... Peter's just brilliant, period. I've always thought it would be fascinating to get in his mind & rummage around a bit, see how it ticks (ooer, could be scary!). if you ever see this Peter Dahl-Collins name attached to any project, make sure you check it out... it won't disappoint. he really should be making music for film - a comment you'll see a lot in relation to Peter - because what he does is so rich & textured, atmospheric & evocative!
all that & Peter's a wonderful friend as well... kind, caring, gentle. lucky me :). check him out.
ps: point at the pictures - any I post up here - to see the description/name of the subject.
babbled by
loz
- 04:56 am
peterdc


June 26, 2004 01:50 PM PDT



haha I'd forgotten about the beach pic.
loz


June 25, 2004 09:17 PM PDT



ah... and petercut.jpg was the one I scanned in? (ie, you sitting in front of the monster mac/desk looking like a normal person?)

anyway, count yourself lucky the 'was 95' pic didn't turn up there, hahaha. I was looking in my folder online, thinking I had that one there from your own video tape (I'd posted that one at IC before, remember?), but all I could find was a different one, but I couldn't see it for some reason... later at home I checked & whaddaya know? Peter half-naked on beach, haha.

alright mate, I'll change the picture - it was just supposed to be YOU in it anyway :).

l.
xx
loz


June 25, 2004 12:24 PM PDT



ah, the lovely amapola :). sorry about the game glitch, but very glad to hear studio happenings are a'happenin' with success. wish I was there *sigh*. I watched the May 6 studio biz the other night and smiled at you all :).

hope all's well on the homefront - give my love to the munchkin.

l.
x
amapola


June 25, 2004 09:32 AM PDT



ah yes, I am in Brighton at the moment (what? oh, i yes, I live ehre) -
I am today, surrounded by snoring men, one husband just bacck from USA (upstairs) and jetlagged and the infamous PDC who is currently snoring on my sofa (downstairs).

Mr PDC and I are trying to recover from the completely mind bogglingly stressful Portugal - England European cup game last night, which saw England go out of the competition on a penalty shootout and a perfectly good goal disallowed by a biased ref (Swiss - and we put the Swiss out in a former match) -
Sigh,

Still creative happenings in studios during the day were entirely more successful :-)

xo
loz


June 24, 2004 09:16 AM PDT



bless yer mate :). and yeah, Brighton! I loved Brighton, I could very easily live there.

did you mean the 'car' was spooky? (hehe, well we've scared the pants off a few people with it so far ;)).

hope the shops were kind to you this day.

l.
x
diz


June 24, 2004 07:03 AM PDT



OMG.. Brighton! :))))

This is spooky... for a number of reasons...

"A handy little implement".. I just love that line. I'm digging all of this very much.

More to explore, but shopping comes first - laters...

x
- - - - - - - - - - - - - - - - - - - - - - - - - - - - - - - - - - - - - - - - - - -




- - - - - - - - - - - - - - - - - - - - - - - - - - - - - - - - - - - - - - - - - - -