first of all, my great thanks to my dear mate, ink1 cohort/collaborator & Flash-God, Peter Dahl-Collins, for allowing me to feature what he does here! he's one of a kind - I love what he does and also sharing what he does. a link to one of his music sites will be added in my 'featured artists' link section. lots of love to you mate, xx.
-----------------------------------------------------
John Myers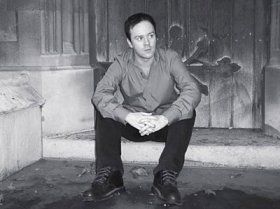 I must say to John directly: I got your CD the other day!! I meant to put you up as my feature the next day and got distracted, and here we are a few days later with me just telling you this. shame on me, but thank you
so
much... I can't tell you how much I appreciate getting my hot little hands on every bit of your music that I can!
I am so happy to have this opportunity to introduce the talented John Myers and share with you my delight in his music. and now I must say to all of you directly: get this man's CD! you can go to
John's site here
to purchase his
Introducing John Myers
EP, find out more about him, and hear samples of the music. you can also check out a very cool feature John offers at the site: each month, a cover tune he's recorded is put up purely for listening pleasure. the tune plays automatically on its page & I can't link to it here, so I'll just tell you to get over to the site to hear John's cover this month,
The Long and Winding Road
. in addition to all the above, you can stop by John's forums and chat with him and fans of his music. don't forget to have a look at the gallery, too... I'm still waiting & checking back for the promised full-frontals ;). the picture above, by the way, is on the cover of the
Introducing John Myers
EP.
John is a talented multi-instrumentalist; a uniquely-voiced singer; a lovely, kind person... and sweet-looking into the bargain. how many complimentary adjectives can you think of? many of them will apply to John, as you'll find out for yourself if you check him out. I had the great pleasure of finally meeting John in person this past April when we both attended Lewis Taylor's gigs at London's Jazz Cafe. having some time to sit and chat with John after the last gig was one of the highlights of my trip, since we've communicated online for a few years as fellow LT fans. surely, not only John's talent and musical knowledge but his demeanor as well have earned him the respect he's gained in the music community.
I won't go on with all the info from John's bio since you're going to go visit his site to read that anyway (aren't you?), but let me just note that John has been playing music since a very young age. such is John's ability that by now he's played and recorded with many well-respected artists (check that discography), as well as with his own bands. John is one of those musicians whose music works so well that it seems almost effortless somehow, but because it's well-crafted the music never fails to evoke some definite emotional and/or physical response. as for style, or genre... well besides the fact that I'm less than proficient at classifications, it's actually a bit hard to pin down what style of music John tends to make. his own site even says:
Soul? Funk? Hip-hop? Rock? Jazz? Folk? This North London based singer and multi-instrumentalist of Irish parents isnít too bothered with the straitjacket imposed by such generic terminology.


though it's not always 'soul' music by genre, any music John makes is most definitely
soulful
. I was fortunate enough once to hear and see John playing his music at the Kashmir Klub in London - via their internet broadcast - and I've been hooked on his sound ever since!
John's new EP includes three songs, and he's also offering - separately - a single dance track he wrote. you can hear samples of all these tracks at John's audio pages, but for your immediate listening convenience I'll link to two of the samples here. you're going to have to go to John's site to check out the other samples and the cover tune!
left-clicking these links will cause a window to open and the song sample will load.
please visit John's site and support him by purchasing his EP (and/or the dance track, Everybody), or even by leaving some words of encouragement in the forums. John has been somewhat quietly working the music scene, playing and recording rather extensively with other artists. now, though, he's focusing on his own music - and once you're familiar with the John Myers sound you're not going to forget it. he's earned my respect and support, and I hope by introducing him here he'll also earn yours.

enjoy!