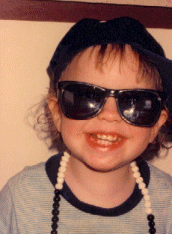 Happy birthday to my baby Duncan - he's 15 today! hard to believe, but time goes by soooo quickly. he was born November 2, 1989, on a Thursday morning... my first child. the Dad was there for Dunc's birth and so was my best friend, See. at the time, the Dad had a job that meant he had to carry a beeper, so he was alerted when a new service call came in. unfortunately, though he'd cleared the decks in anticipation of when the baby would be born so could take time off, he forgot to both turn the beeper off and to notify the office, so for quite a while during labour and delivery we had that bloody beeper going off.
funny how it all started... I went to bed thinking I *might* be in labour, because I was having sufficiently 'different' type of contractions that made me think this was
it
. of course, once we were in bed I couldn't really sleep, wondering if it really was about to happen. we timed these 'odd' contractions for about an hour and they seemed to be coming fairly regularly and getting closer, so we decided to try to get some sleep. as soon as I leaned over to put my watch down and laid down again though, my water broke. it felt odd - not like peeing my pants, but much like a balloon full of gel-like liquid between my legs had popped (sort of a baaa
loooomp
feeling, if you can relate), and then I felt like I had a crotch full of liquid. I guess I poked Ray to alert him, and we got up to inspect the bed. sure enough, there was a rather large wet spot on my side. we also had cause to be a bit concerned, as there was meconium in the water (brownish/greenish matter - meconium is essentially, if you didn't know, baby-still-in-uterus shit. it often signals that the baby's been in some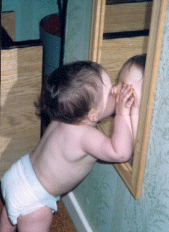 sort of distress and has had its first 'normal' poo, right into the amniotic sac. this obviously has to be watched, though it doesn't necessarily signal bad problems.
anyway, we did... something. sleep? (not likely). stay awake and pack? (probably) all I really remember for sure is that eventually we phoned the hospital and let them know that labour was progressing, water had broken, presence of meconium, etc., and that we were coming in soon. got our stuff together and headed off, but just before we left I remembered that I hadn't paid the telephone bill and I was afraid the phone service might get cut off (not good just then!), so we stopped and paid the bill on the way. the hospital was a bit concerned, by the time we got there, because they had assumed we were coming straight in, hehe.
in any case, we got there, were admitted, assumed the position, etc., and the whole labour/delivery went rather well. the only thing that distressed me really was this stooopid woman (someone there observing more than anything I think, since this was Grace Hospital in Vancouver, a teaching hospital... you sort of had to agree to being observed during your birthings. my friend might remember - See, was she just a 'guest'?) who did an internal exam when I said it felt like I needed to start pushing. she said with a very condescending smile, 'oh no dear,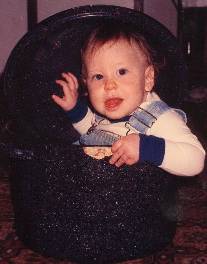 relax! you're only about 2 centimetres dilated - still a ways to go!' ack! I'd been up to at least 5 or 8 cm. dilated before, what the heck was happening?! was my cervix closing up again?!
thankfully the regular nurse came back to check when I screeched my protest (though I wasn't so thankful for yet *another* internal poke just then), and discovered that my cervix was fully dilated except for a tiny 'lip' that was hanging on; she pushed it off Dunc's head and away we went. I puked once during the 'transition' phase, and then the pushing took only about 20 minutes. I was tearing quite a bit so the doctor did some snipping, and then Ray actually got a picture of Dunc's head being born (the picture would look a bit like a tiny, red-faced, bearded man if you didn't know what you were actually looking at). another push or two and there he was! they whisked him off to the 'cart' (can't remember what it was called, but they have this specific natal emergency team standing by in cases where there's been any reason to worry about the baby's state at birth, and they come complete with a cart full of equipment), threaded a huuuuuge tube down his throat & sucked out a bunch of crap, since they were concerned about the meconium he might have swallowed since the water had broken. that tube-sucking procedure also meant that I never had to experience the possibility of Dunc choking up any mucus after birth (that was nice for me, at least).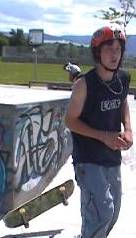 the one thing I regret is that I didn't get to hold my baby for the first time until at least 45 minutes after birth; I had torn so much (and the doctor had done that snipping of the perineum) that it took that long for Dr. Burak to sew me up! I could have held Dunc, but I was so busy trying to hold myself together from the pain of the sewing (much worse than the birthing!), I had to hang on to the sides of the bed. Ray and See both got to hold him though, and brought him close for me to admire, of course. aww, I'm choking up just thinking about that time, again. it was, to say the very least, one of the most awe-inspiring, destiny-fulfilling times in my life.
so there's the story of my first baby's birth, 15 years, 6 hours and 40 minutes ago, as I type this sentence: a sweet baby boy, 8 lb., 2 oz. and 21 inches long, with an amazing ability to sit quietly and observe the world around him (a man on a bus once told me he'd been trying for ages to teach his dog how to do that, haha). a boy who engaged his environment as soon as he was able to - his first word was ball (anything remotely round was called 'ball'), and who first demonstrated his empathy for other beings by tearfully asking (at age 3), 'mommy, is ET going to die??' and although Duncan's a bit quiet overall, he always has a lot to say. now, he's almost 6 feet tall and I can swim in his shoes if I try them on. oh, and he's not prone to wearing my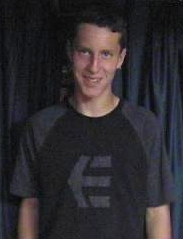 jewellery anymore, by the way, though he does like wearing hats and cool sunglasses still, and rarely hesitates to try new things (though I don't think he'd willingly get into a canning pot again).
I won't even mention how talented Dunc is at sports, and how persistent he is when he wants to learn or do something! very goal oriented. besides all that, he's only the most responsible kid I know, and parents actually tell me (in words!) how much they appreciate him, love when he visits their homes, and how grateful they are that their kid hangs out with such a great kid like Duncan. he's also got a wicked humour and a talent for practical jokes which pops out at the most unexpected times.
what more can I say? he's about perfect! well, mostly ;). either way, the Dad & I are extremely proud of him - proud to be his parents, and thrilled that
we
were allowed to have this special soul in our lives.
happy birthday Dunc!
ps: sorry if the pics make this take a while to load, but... :).