loz : laurie

I am many things; mostly appropriate, I believe. some of you know parts of me... some of you know much of me. very few of you know all of me.

you may find the many parts of me somewhere around here, if you want to take the time to look. good luck, hahaha.

oh... but let me know if you find my pieces, please... I always seem to be searching for myself ;).
my own webhosting choice... always!
my camarades cam indicator:
(click it if it shows 'cam online')




tag board: patience please, new comments are often a bit slow to appear.
Sex:

empower yourself!

the population keeps rising
the nipple poll
note: past votes are recorded; you don't need to vote again if you already have. thanks for voting!
click to see all poll results
past poll results:
type Y for yes, N for no
1. are your nipples sexually sensitive?
2. have you ever had an orgasm from nipple stimulation only?
3. are you M or F?
results:
female:
#1:
71
#2:
30
response: no to #1 -
6
male:
#1:
35
#2:
13
response: no to #1 -
17
gender-confused (4):
#1:
maybe...
#2:
uhhhh...
completely confused:
19
most original comment:
I am N. Ninja. I transcend such trivialities as gender.
artists featured here
(brilliant indies)
mostly appropriate blinkylinkthing:





right-click on blinky & 'save target'

so... who links back to me?
lozlinks

lozza links, related to my own biz as well as some great blog reads. check 'em out!


click to see all links
what colour energy are you?


Your Energy is Purple. You are a visionary with unmatched intuition and spiritual consciousness. The mystical world and unexplainable forces fascinate you. There resides in you a true dignity and nobility, and others see you as a worthy leader and loyal friend. You are often very mature, with a deep understanding of human nature, and you will instinctively encourage and guide others toward their full potential.

You find it natural to express yourself aesthetically and artistically, you may be involved in the artistic professions, a religious organization, or in activities that have a degree of ceremony and ritual. You would make a good therapist, healer, psychic, or entrepreneur.

What color is your energy?
brought to you by Quizilla

My blog is worth $11,290.80.
How much is your blog worth?
Ramjam Radio
reggae, soul, RnB and other quality black music of all genres.

Friday, December 21, 2007
if you've read here long enough you won't find it surprising to see this on my blog :).






I had a dream once. it was a large field of tall, waving grasses and daffodils, daisies and assorted colourful weeds under a gently bright sky. in it were two little children, boy and girl, tow-headed sweet souls. holding hands and running through the weeds, they giggled and tumbled, got back up and ran again. but no matter how rough it got, neither let go or left the other behind. they were two, but like one.

that was all there was to the dream, though when I woke I knew it wasn't just a dream, but a memory. when two souls are connected as such, they just don't - can't - let go completely.

that's the ghost in my heart, and it's a very dear one :). all I can say is that I'm glad I recognised it again, and I hope it haunts me all my lives.

funny what - and who - one finds in the most unlikely places eh? a little more than 7 years now (so far) this time matey. wild eh? *blows kisses*

Thursday, October 18, 2007
I'm having fun with web design recently, since I've been getting more jobs. I've even been paid for some of my work; gotta love that
.
anyway, I'm working on a site right now & having the devil's time with colours. what I initially loved, I'm thinking now is just wrong; it's far too dark & imposing - overwhelmingly so - overall, in my opinion (at this moment, at least... that changes about every 5 minutes).
anybody want to give me an opinion? this small image is a bit misleading given that none of the pages will look *exactly* like this, but this is the overall look of it at this point in time.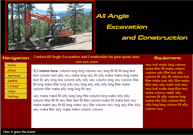 I did have misgivings about the black background on such a large header to begin with, but still... it looked good to me at first. now that I've made umpteen changes & I see how dark the whole thing is getting, though, it just seems wrong. and yet, even as I typed that & looked at the picture above, it still has a certain appeal for me
. I'm not sure I've *ever* been this wishy-washy about any site I've worked on.
oh, and the content hasn't all been added to this page yet, so it doesn't look exactly as it will with content. this is strictly layout stuff. picture the page with a line of equipment images going down the right hand side (where currently you only see the gold text on burgundy-like background). the pictures that'll be there will be large(ish) thumbnails, each linked to larger pictures in the gallery. hmm, probably about 4 of those thumbnails down the right side.
I've never been happy with that header (image/words) the way it is on the background, but I've been rather stumped by it all along
. I've got to use that picture so it's visible on every page, so it makes sense to have it in the header - but it also needs to be big enough that visitors can see specific details on it. arrrrrg!
I'm already thinking of different combinations of these colours, since I really don't like the way that black looks on the header. I do want to stick with these main colours though, because it's a site (in my opinion) that needs to suggest strength and straight-forwardness at a glance. er, or something like that.
I'm thinking now to leave the main background white (header *and* the rest of the page), use black behind the 'Navigation' & 'Equipment' (titles at the top of the left & right boxes) but have the boxes themselves white background with the burgundy-like colour as a border. hmm... yes, probably better, but maybe I'll nix the black except for text & border colours, and continue to use the burgundy-like colour behind the box titles.
*sigh* I've changed these colours around about a million times already; that's not even saying anything about all the time it took me to change the layout code when the first I used didn't work correctly. I do like the basic layout setup now, for this site - header at top where it belongs, navigation buttons at left, and the line of pictures down the right... content in the middle where it should be in this case.
anyway, opinions would be welcome & helpful, if anybody wishes to leave me something. and thanks, if you do :).
Saturday, September 29, 2007

"mom, at least put your feet up if you're going to sleep there."
"here mom, put this under your head."
"get a good sleep tonight, and make sure your feet are propped up."
"take your pills if it hurts."

just some of the ways my boys take care of me :). they're growing up, obviously noticing their mom needs some care sometimes too. it warms my heart.

the thing about propping the feet up is fairly new... I had an attack of phlebitis, first time I've ever had anything like that but I'm told it'll come back if I don't take care & make sure I do get my feet propped up through the day sometimes. this is a bit difficult for me since I'm working at the pute so much. phlebitis, if you don't know it, is inflammation inside a vein. lovely... one of the more painful things I've felt recently, sort of like having a broken leg but with bone intact and no bruising.

I also have very small pupils now. I was worried about it because I started having a bit of blurry vision a little while before I noticed the pupils were always tiny, but as it turns out my pupils are responding normally & the doctor said it's not unusual in people who take the same drug I take for pain. he assured me there's no problem with having pupils this small, they just look different.

meantime, I think I'm going to have to get progressive lenses for my glasses, as it seems to be my mid-range vision that's blurry, the vision that's just over top of the bifocal part of my glasses. I'm also having to use my glasses all the time while I'm working at the computer now. oh joy. getting older, I guess. I'll just be glad when menopause actually *happens* (as opposed to the sputtering on & off of peri-menopause).

I think I'm actually taking less painkillers recently, though my pain has been worse with the change in seasons. as much as I depend on them to get through my day, I hate taking them. I keep wishing for a miracle (herbal) drug that would take the pain away without affecting other parts of my body. and I keep trying to convince myself to exercise regularily, but I have a problem with that... it's called 'lazy'. well, that's not the whole of it - I'm also having a hard time just working it into my day, and with the extra pain lately I just don't seem to have the will to inflict even more on myself.

that's about it i guess. just figured I'd chronicle my health biz. I don't know why, but now you know (hah, waiting with baited breath for that, I'm sure).

I screwed up financially recently & am suffering all the effects of it now. my Mom says that doesn't necessarily mean I won't do it again, though I was hoping it might convince me how stupid procrastination is ;). one thing's for sure, I won't forget this period of time anytime soon.

strangely enough, things are actually looking up financially, in the long run... I just have to manage things properly & we should be okay. we're hoping to move soon, as we're awfully tired of this place. definitely means I'll have to make more money though, since in November I won't get any child tax or anything for Duncan anymore, since he turns 18 then.

I think I'm finished now.

Wednesday, September 26, 2007
well, it's been a while eh?
I've been writing, just not around here obviously. but I kinda miss this place so I'll hopefully be writing here more often again. my life has become a bit compartmentalised, but that doesn't mean I can't pay attention to each compartment in its turn :). mind you, that could mean I'll just bore everybody with my daily life (or non-life, as the case may be, heh).
been working still - the part time job at the hospital & web design from home. there has been a lot happening on the home front too, with the kids & all. Bren's doing well, having entered grade 9 in public school again - no more home schooling thank heavens (I just can't keep up with it myself!). he's also been working a temporary job, on weekends - but couldn't work this past Sunday due to an injured collarbone. he'll be healed enough in time for his last weekend of work coming up.
recently his backpack was stolen from a party, diabetic supplies & all. man, I hate when that happens (third time in the last couple years). we managed to replace his glucometer the next day, but meantime he'd missed one of his dosages because we have to be able to test & get his readings, before we can determine how much insulin he needs for each dose.
anyway, a friend of his - who'd been to the same party but didn't realise his backpack had been stolen - saw some kids laughing about this stuff they had stolen, put two & two together & grabbed the diabetic stuff to return to us. sweet! now we have two working glucometers so if we're ever in this situation again we'll have a backup glucometer to use. 'the boys' are looking into finding these thiefs again, so we can get Bren's backpack too - and illuminate them on the potential dangers of stealing (ie, if the situation had been different, Bren could've been very seriously affected by the theft of his meds & equipment).
Dunc's doing great, enjoying some time off & working if/when something comes up. he was working quite steadily for a while, but his boss hasn't had anything for him recently so he's just been having some fun. still seeing his girl Avery & they're basically attached at the hip. he's thrilled to have finally received his passport, because he's been invited to go to France in November with Avery & her family. nice! when he gets back, I guess, is when he's going to get completely serious about finding a full-time job. plan is still to go back to school next fall.
and me? I'm keeping busy, as noted. not doing too much social-wise lately, but I take my opportunities where they come.
oh, I did go to the
Tribal Funk Festival
(I yammered on about it here before, while I was building the web site). it was a bit of a wash-out given a bunch of the artists didn't show up & same for the audience, but the people & artists who were there were great. I discovered a new artist there too -
Mystic Bowie
. he came all the way up here for the festival & hung around all weekend, to finally take his turn on the stage on the last day, as the last artist (and then had to drive about 10 hours to get a flight home the next morning).
the man is high energy, an amazing entertainer & talented... there wasn't a huge crowd there, but he had everyone totally involved & enjoying his performance. click that link above & go listen - his song
Mama
(for his Mama who just passed away on the 15th, incidentally) is my fave, but when I met him at the festival he gave me his latest CD so we can play his music on
Ramjam
and I've been enjoying the CD a lot. he also plays with the
Tom Tom Club
... otherwise known as the
Talking Heads
, when he's not singing lead vocals for them.
guess that's about all I need babble about for now. hopefully there'll be something more interesting to talk about soon ;) (no really... there might be. well, I sincerely hope so!).
- - - - - - - - - - - - - - - - - - - - - - - - - - - - - - - - - - - - - - - - - - -




- - - - - - - - - - - - - - - - - - - - - - - - - - - - - - - - - - - - - - - - - - -